Discover more from Once A Week
Reflections on theology, therapy, spiritual abuse and reformation at the frequency of a counseling session
Church Abuse Activism? Easy Targets and Misused Critiques
Another 3,000 word response to Samuel James
has given some
additional thoughts on "church abuse activism"
generated by books like
When Narcissism Comes to Church
by Chuck DeGroat. I published a
response
to James' prior
critique
of DeGroat last November, and feel the need to do so again, but with some hesitation. I hesitate, because I believe there are different strands of "abuse activism", and what I want to defend is probably different than what James wants to critique. His examples come from the milieu of social media. My experience in advocating for abuse survivors comes from flesh and blood experience of witnessing church abuse. If we are careful in distinguishing our dialogue partners, I suspect (or hope, at least) that James and I would have substantial agreement. The danger is in addressing different enemies while arguing as if they are the same. So,
caveat lector
; or,
caveat apologiste
: let the apologist beware.
What pushes me past this hesitation is that influential evangelical leaders seem to really like what James has to say about spiritual abuse. Justin Taylor retweeted (twice) James' initial review and Dane Ortlund praised this second piece.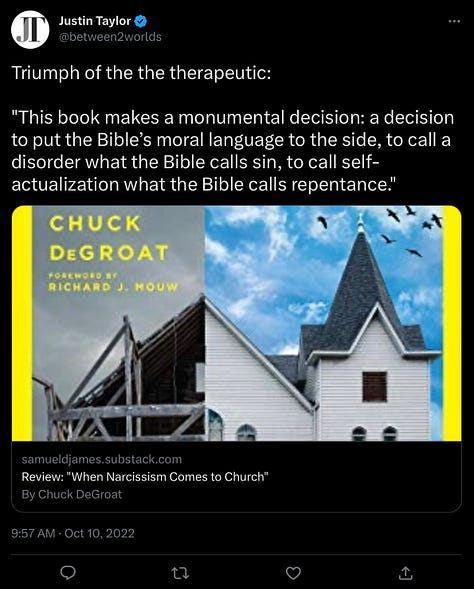 So, a pastor who as been accused of abusing spiritual authority commends an article on spiritual abuse. Hmmm. That gives me pause. Well, not pause, because I'm taking action by writing. But it's certainly a red flag for me. Now onto the material itself.
Once A Week is a reader-supported publication. To receive new posts and support my work, consider becoming a free or paid subscriber.
I don't find a whole lot new in James article. Indeed, it's strange to me that he hasn't actually addressed the "pointed pushback" he reports:
"My review of When Narcissism Comes to Church generated some of the more pointed pushback I've ever received from those I would consider generally in my theological/political tribe."
James conveniently passes over the majority of Mike Cosper's 3,000+ word constructive criticism. For those who like what James has to say, I can only hope that you do the hard work of studying his critics even if he doesn't. I don't mean any offense by that. It's just that Substack is a medium for richer dialogue that social media doesn't allow, yet James spends more time critiquing social media tweets than he does engaging 3,000+ word responses (including my 3,000+ word response, but that I understand, I don't realistically expect James to read my writing because I don't have any kind of online platform). Given the greater potential of long-form writing vs social media, I would welcome some true back-and-forth dialogue with James in a spirit of genuine Christian catholicity.
Given that he presents similar ideas in this second piece, I will be re-using some of my previous responses. Here is how James restates the main point of his first review:
"The decision that DeGroat made to emphasize psycho-therapeutic categories and marginalize concepts like sin and repentance is consistent with the framework he establishes, wherein the definition of a narcissistic, abusive person is highly contextual and depends mostly on how the people around that person feel about him."
I commend James for softening his critique here. Where he initially said DeGroat "abandoned" theological language of sin (2x in that review), now he says DeGroat "emphasized psychology" and "marginalized Biblical concepts". Still, emphasizing one domain of discourse does not logically require marginalizing another, and as I pointed out before, DeGroat is quite comfortable and adept at using biblical language and concepts. This means DeGroat does not believe there is an inherent incompatibility between psychology and Scripture. I believe James is reading DeGroat with a presupposition that DeGroat does not share, and charitable reading requires acknowledging those differences.
---
More to the point, here is how I restated James' main points from his initial review:
First thesis: Biblical categories are superior to psychological categories, and psychological categories are harmful/heretical.
Second Thesis: Biblical categories allow us to come to true and accurate judgments, whereas experiences and feelings do not.
The rest of James' article after that quote about emphasis and marginalizing, which was initially behind a paywall, is all about how "we're seeing a pathologizing of personal discomfort". But James focuses his attention at "online therapy culture", whereas my concern is the local church. I am going to skirt that online discussion entirely, except to say that any analysis of cultural influence between social media and church is going to be complex and multifaceted. So, I am wary of any reductionistic assumptions that because "pathologizing of personal discomfort" is happening online, it's obviously happening in churches.1 This is where I think we are talking about different cultural forces. And I am concerned that pastors will take James' critique of online spiritual abuse discourse and apply that to their local church in defense of truly abusive behavior. To that I say, anathema.
Theology vs Psychology?
Back to the first thesis. Are Biblical categories really superior to psychological ones? I believe James' approach suffers from an overworked antithesis principle similar to movements generated by Cornelius Van Til, Jay Adams, and the nouthetic counseling / ACBC movement. That is a big debate, and in a short response I can't do much better than quote from Eric Johnson:
"In transposition, in order to understand the lower order [e.g. biological, psychological] properly and more comprehensively, the knower interprets the dynamic structures of lower orders from within a higher order of meaning…This process is a hierarchical transposition, by which the meaningfulness of the lower order is redesignated, so that the higher order gives the lower-order information a new depth and significance."2
This comprehensive perspective, or what Johnson terms "complex theocentrism", contrasts "simple theocentrism" and "religious dualism":
"Religious dualists focus on the highest order of human life—the spiritual—and see it as so much more important than the other orders of the creation that the latter are neglected or seen as unworthy of serious attention, or, in the most extreme versions, are interpreted as being antithetical to the spiritual realm…Christian models of counseling that focus exclusively on God and sin and downplay reference to biological and psychosocial influences may have fallen under a gnostic spell."3
Johnson calls for "a more profoundly theocentric approach" than dualism:
"Upon greater reflection and in light of Scripture, all the created aspects of human life are recognized as important because they are made by God. Therefore, for God's glory every aspect must be "given its due," corresponding to its particular significance in relation to God…Contrary to religious dualism, a more thoroughgoing theocentrism understands that God is honored by an appropriate regard for all that he has done and made, including those created strata of lesser significance."4
From the perspective of Christian psychology, concepts derived from creation grace, such as narcissism, can be employed with careful accuracy when transposed into the higher orders of sin and grace. They are not incompatible.
Furthermore, the use of psychological discourse allows for deeper, more nuanced analysis. James may disagree, but Johnson has argued that the Bible presents us with a "lay psychology" which focuses on the heart of creaturely living before the face of God. This is true and good and beautiful. But it is not incompatible with deeper psychological analysis, ways of framing and understanding the roots of personality structure and human behavior. Both can be true and beneficial in addressing the problem of spiritual abuse.
Pitting psychology and theology against one another is, in my estimation, simply naive. But, to go back to the problem of different targets, perhaps James is only familiar with bad Christian psychology discourse. I can join him in critiquing those. But it is also a straw man argument to read DeGroat through the lens of "online therapy culture." The two simply aren't the same, and I'm baffled that someone of Dane Ortlund's intelligence can't see that difference in commending this critique. Sadly, I suspect authoritarian Christian leaders find it too convenient to pay closer attention to those differences.
Concepts vs Feelings?
Moving on, there is the problem of James' second thesis, that Biblical categories allow us to come to true and accurate judgments, whereas experiences and feelings do not. For ease of reference I'll quote him again:
"The decision that DeGroat made to emphasize psycho-therapeutic categories and marginalize concepts like sin and repentance is consistent with the framework he establishes, wherein the definition of a narcissistic, abusive person is highly contextual and depends mostly on how the people around that person feel about him."
Notice the italic emphasis on "feel". Whether or not James intends this, it's hard to overlook how the question of feelings is often used to defend allegations of spiritual abuse. "I didn't hurt you, you're just too sensitive". Again, remember the different targets. Do we have a problem of "coddle culture"? Yes. But cases of spiritual abuse are just that: cases. They should be assessed on their own individual merits. And in those highly contextual situations, feelings can actually be a reliable source of diagnostic information. To believe otherwise signals a poverty of Biblical literacy and a worldview tending toward gnosticism. Here's how I explained this in my first response:
Emotions and intuition are valid sources of knowledge. Not infallible. Not inerrant. But neither are they completely unreliable and unimportant. Rather, they become more reliable, trustworthy and accurate through practice.
But solid food is for the mature, for those who have their powers of discernment trained by constant practice to distinguish good from evil. (Hebrews 5:14, ESV)
The ESV translation "powers of discernment" is just one word in Greek, αἰσθητήρια. Other translations render it as "senses" (KJV, ASV, NASB) and "perceptions" (NET), and it is where we get our English word aesthetics. "Senses" is a bodily metaphor, pointing to a similarity between physical and spiritual perception. Just like I can look out my window and perceive that the sky is blue, intuitively and without rational discursive thought, this Scripture teaches that discerning the difference between good and evil is an intuitive ability of perception. Furthermore, this bodily metaphor is couched within a larger context of a physical metaphor about food. If we take biblical anthropology seriously and understand humans as embodied souls and ensouled bodies, this spiritual aesthetic sense has an embodied aspect. How do we practice but with both body and soul? Likewise, how do we distinguish good from evil but with both body and soul? Not that intuition is purely physical, but neuroscience has demonstrated time and time again that it is the intuitive right-hemisphere of the brain, rather than the analytical left, that uses more and stronger connections to our body.
Survivors of abuse have been forced to practice recognizing abusive, narcissistic behavior. In an analogous sense, their "powers of discernment" have been trained by experience (Hebrews 5:14). For those who have not themselves "encountered narcissism's ugly bite", as DeGroat puts it, discernment is often (I won't say always) minimal through immaturity and lack of practice. And it is that degree of practice which should provide a more charitable reading of DeGroat's case illustrations. On the basis of practice in distinguishing good from evil in his decades of assessing and counseling church leaders and ministry candidates, I'd wager that someone like Chuck DeGroat has a greater level of discernment than most with respect to narcissism.
Gnosticism?
I mentioned a concern about gnostic tendencies in James' critique. This can be seen in James' decision to oppose theological and psychological claims:
"how would you adjudicate between a claim of spiritual abuse on one hand, and a claim that the Bible is objectively good and true and worthy of reading and believing on the other? The latter is a theological claim. How do you answer a theological claim with a psychological one? They need not always conflict, but if they do, where do you go from there?"
What does it mean for a claim of spiritual abuse to be psychological? James believes this to be inherent in the concept itself. I can only assume that calling something psychological means 1) placing it within the domain of the human psyche and 2) situating it within the discourse of the modern science of psychology. The first is true, tautologically. The second is not inherent. Describing behavior as an abuse of spiritual power that causes spiritual/emotional/psychological harm is no less theological than using theological terms like "Trinity" or "homoousios". If James wants to contend that "spiritual abuse" is strictly a psychological category, I would like to see a more developed argument so I can take him more seriously. Otherwise, continued use of the dichotomy will lead Christians to a biblicist gnosticism that pits spirit against mind/body. And, contrary to James' argument, this will actually enable abusive leaders to continue to "benefit from category confusion".
Clarity vs Misused Criticism
James wants us to be more Biblical and more precise. I commend that desire, it's a needed endeavor in our day. But in neither of these articles has James showed Christians what that might actually look like. The same could be said of this response, which is limited to critiquing James' critique. We do need to move on to the positive work of constructing better frameworks for assessing and addressing claims of spiritual abuse (on which, see recommended reading below).
But bad critiques that are promoted by powerful Christian leaders create the need for additional criticism, what I call apologetics for the abused. When I say apologetics (defense) for the abused, I do not mean those who feel abused when pastors tell them to go to church (which may or may not be problematic depending on the case), but those who have been abused by being fired in retaliation and functionally excommunicated from their church community. I do not write in defense of those who deny "that you should even struggle", but those who struggle because they were sexually abused by pastors and lay elders and also say the harm from how their church mishandled their allegations was greater than the sexual abuse. I write to defend, not those who believe Christians "can only be truly safe at home", but those who truly do not feel safe at church because there are ravenous wolves with MDiv's and PhD's who love category confusion caused by bad theology.
Granting that James and I have different targets, I understand the concern that some Christians are pushing a "pathologizing of personal discomfort". But I hope and pray that James and his admirers see how this kind of critique also pathologizes sheep who are being eaten by wolves. Focusing on the errors of "online therapy culture" ends up lending support to pastors who retaliate against sheep and then hide behind the defense of, "No, I'm not eating you, you just feel hurt by my sharp teeth."
I make no apology for being an advocate against spiritual abuse. So when James writes that "This dynamic [of pathologizing discomfort] is evident throughout the broader Christian subcultures that have embraced a more activist approach to church abuse," I can only conclude that he is not reading the right advocates. And as long as Christians critique easy targets, it will likely prove difficult to make significant advances in developing robust biblical and theological material about spiritual abuse.
Quote from
Some passages ought to be the first stop for all discussions of a given topic. For instance, no one should talk about the Bible's view of marriage without a careful study of the Song of Solomon, though most books about marriage somehow avoid the passage. No one should write up a theology of Scripture without carefully exploring Psalm 119, though most do ignore it (footnotes deleted). And no one should be talking about a theological, biblical view of spiritual abuse without examining Ezekiel 34. This passage is the Bible's most important (by far) passage on power abuse by covenant leaders in Israel, and the kind of abuse in the passage can be classified as spiritual abuse.
Recommended Reading
See these robust biblical/theological discussions of spiritual abuse from
, Amy White—whose master's thesis,
Towards a Theological Definition of Spiritual Abuse: Ezekiel 34 and the Use of Pastoral Power
, is available in digital format for only $4—and the PCA's
DASA Committee Report
(especially pp. 2436-2456).
1
This really isn't my concern, but it's also worth noting that James (and many other objectors) missed David Dark's actual wording, which pointed to Keller's statement as a reflection of "the language of spiritual abuse." He did not say, "this is spiritual abuse." As such, the statement merits dialogue, not dismissal as "gross overreaction".
2
Eric L Johnson. Foundations for Soul Care: A Christian Psychology Proposal. IVP Academic, 2007, p. 366, emphasis original.